The latest update to our web reporting and emailed reports contains several new features. These are changes that have been requested by customers and are important improvements. You can view all the upgrades in our demo reporting service.
Visitor and Occupancy Density
We've added the ability to view both visitor and occupancy density for any time period. You can view the number of visitors or the occupancy for a day, week, month or year. The table can be broken down by hourly or daily increments. Visitors are shown on a green heatmap and occupancy in orange.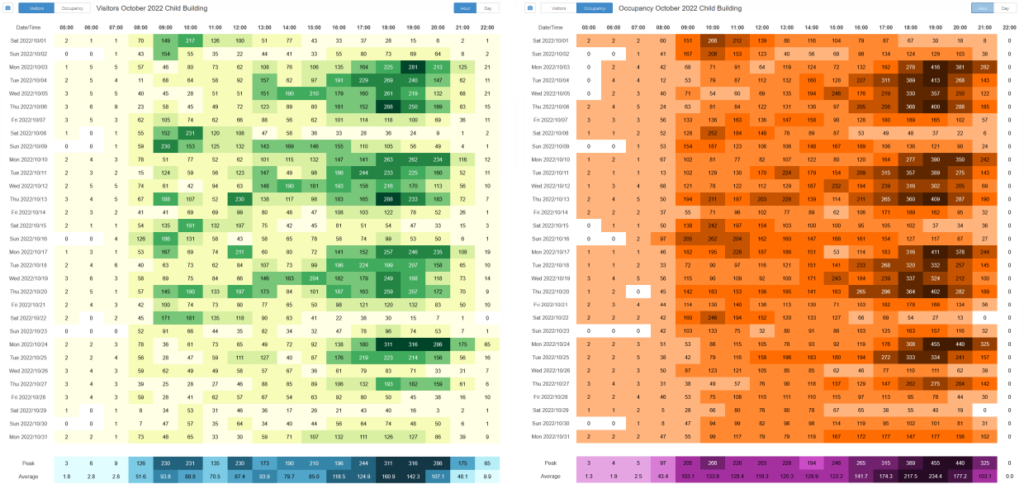 We've also added the average and peak values in a heatmap below the main grid.

You can now view report periods by more subdivisions. For example, you can view year reports by day, week or month.

Viewing a whole year by day intervals shows the finer features, such as store closure on Sundays.

Viewing the same period by week averages out the bumps for a clearer picture of week-on-week performance.
For the the broadest view, the monthly subdivision provides a user friendly overview. The effects of the pandemic in early 2021 can be clearly seen.

We've added the option to view month and year reports by week number. This allows you to see a month with 4 or 5 weeks or a year with 52 or 53 weeks. Here's an example of a month report by week number compared to the same week numbers last year.

Week numbers are defined as part of an international standard (ISO 8601) that allows businesses to compare one week with the same week last year or to track their progress throughout current year. Xenometric has taken time to develop our reporting to ensure that week comparisons are as meaningful as possible.
Viewing counts in the standard way can be confusing. This chart shows a comparison of one day against the same weekday from the previous week. It's difficult to immediately see which day was busier.
Viewing the same counts cumulatively throughout the day is a simple way to view how the two days differed.

To save time, we've created shortcuts to common reporting options. Click on the star button to show a list of favourite reports. Clicking OK runs that report without having to use the comparison buttons or change the date pickers.
Custom colours for locations
In all earlier versions the colours used in charts and tables were fixed. The standard colours started with blue for the first series and red for the second series. You can now request locations to have custom colours to match your corporate branding or store colour coding.

Our reporting supports the best practice of storing hashed passwords with a unique seed per user. We cannot see your password, but we can reset it if the password is forgotten. We have also supported Single Sign On for some customers who use MicrosoftOnline to validate their login within their enterprise.